Looking for physiotherapy in Newcastle/Rutherford/Budgewoi?
Our Physiotherapists are highly skilled professionals who are qualified in the assessment, diagnosis, treatment and management of musculoskeletal injuries. Your physiotherapist will develop a comprehensive treatment program based on your assessment, this program will be designed to promote healing, restore normal range of motion and function, relieve pain, strengthen the area, and reduce risk of re-injury. 

Hands on techniques, such as massage, trigger point dry needling, joint mobilization, taping and stretching, are regularly used in our treatment. Exercises are also very much a part of any rehabilitation program and it is highly likely you will be given specific exercises for your injury when you see one of our physiotherapists. All of our physiotherapists have expertise in developing tailored exercise programs to help you recover as quickly as possible. These programs will be customised according to your current physical status, goals, access to equipment, injury history, and requirement for guidance.
Common conditions we treat include:
Sprains and strains
Sports injuries
Age related changes
Pre/post surgery
Spinal
Chronic pain
Women's health
Falls prevention and balance
Headaches
Effects of deconditioning or inactivity
Muscle imbalances / weakness
Specialty Physiotherapy Services
Sports Physiotherapy
Sporting injuries require more extensive rehabilitation in order to return to sporting level without restriction and with minimal chances of re-injury. In this way, sports injuries require specific analysis or the injury as well as an understanding of the requirements of the sport.
We aim to rehabilitation the athlete, within the guidelines of the injury or surgery received, in the minimal amount of time with the goals of returning to full normal function and minimal re-injury risk. Your physiotherapist will develop a comprehensive treatment program based on your sporting requirements, surgical requirements (if appropriate), assessment, and outcome expectations. This sports physiotherapy program will be designed to support your healing process while restoring normal range of motion, strength, function, return to sport, and reducing the risk of re-injury.
We use a range of hands on techniques, including massage, joint manipulations, trigger point therapy, taping and stretching, to facilitate a rapid recovery. Braces may be required during your return to sport and these are ordered in independently so we can select the right brace for your injury and sport. Self-management is frequently a part of your rehabilitation and you will most certainly be given highly specific exercise, return to sport guidelines, and a home program to assist in your return to normal function and sporting performance.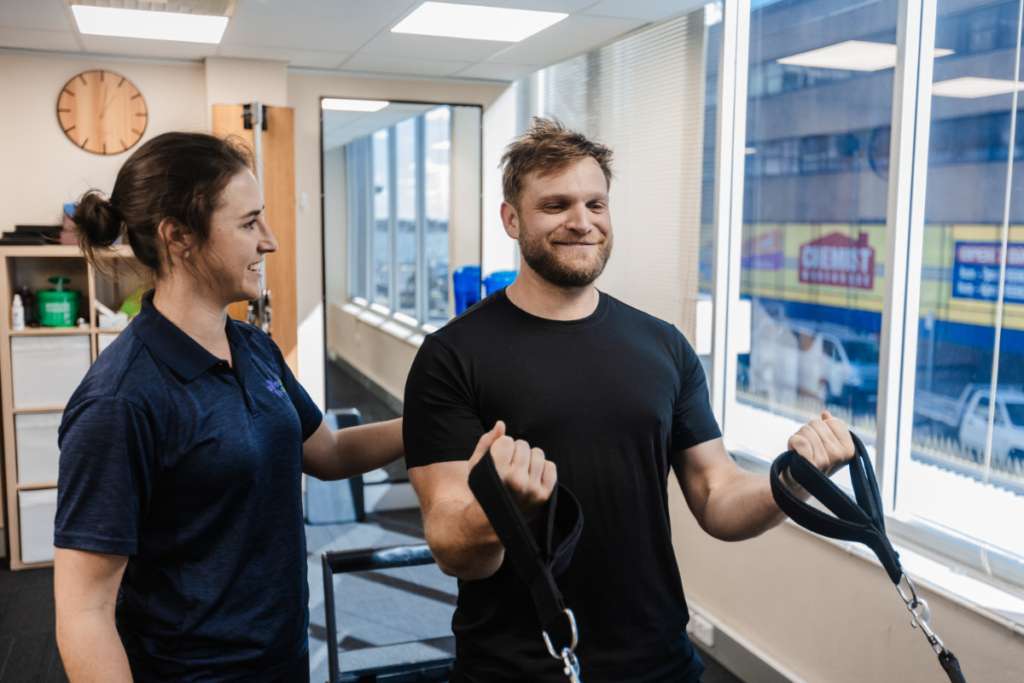 Headache & Neck Pain Management
There are many sources of headaches, whether strain, stress, or illness. Headache can be a symptom of muscle tightness or joint dysfunction, more frequently sourced back to the upper neck. Physiotherapy is an effective tool in the treatment of headaches caused by musculoskeletal dysfunction, such as cervical headaches caused by neck dysfunction, or tension headaches from muscle strain or times of stress. When dealing with headaches it is essential to diagnose the underlying problem correctly; some headaches will respond to physiotherapy, while others require different forms of treatment. Either way, our experienced physios will be able to provide a thorough assessment and steer you in the right direction.
Women's Health
We have physiotherapists available who specialise in Women's Health related physiotherapy conditions, such as pelvic floor rehabilitation, pre/post natal conditions and advice, DRAM (Diastases of the Rectus Abdominus Muscle) management, continence concerns, pelvic organ prolapse, exercise in pregnancy and high risk pregnancy, pregnancy related pelvic girdle pain, and more conditions relating specifically to Women's Health.
Read More about our Women's Health services.
Trigger Point Dry Needling
Trigger Point Dry Needling is a western technique implemented by health care professionals where acupuncture needles are used in the release of trigger points, also known as "knots" or "spasms", relieving symptoms related to muscle tightness. The effect is similar to massage, but can be more powerful in achieving a deeper release.
Not all physiotherapists are trained in Trigger Point Dry Needling, so if you are interested in using this technique, please indicate on booking. Your physiotherapist will still always assess your injury or complaint prior to using the technique, as there may be another form of treatment more appropriate that they can offer.
Read More about Dry Needling.
All our physiotherapists are registered with the Physiotherapy Board of Australia, and the clinic is registered with the Australian Physiotherapy Association.